| | |
| --- | --- |
| | PRODUCTS |
FOOT CARE
Blisters Corns Calluses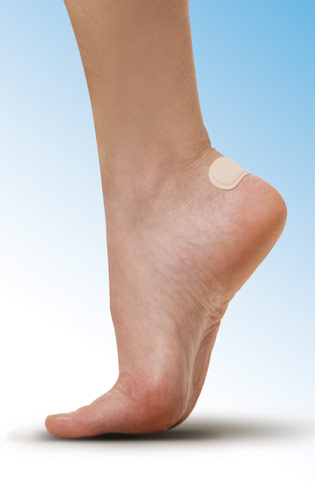 BENPED
ANATOMIC HYDROCOLLOID PLASTERS
Properties
Active state of hydrocolloid eudermic  micro-granules with hydrating and restoring purpose.
Highly elastic holder, optimally protective. Adheres like a second skin.
Thickened bearing structure in the middle part.
Hypoallergenic bonding agent with increased grip.
Hydrophobic, non-occlusive.
Absorbs pressure and friction of footwear, giving immediate relief from pain.
Recreates the ideal conditions to restore healthy skin.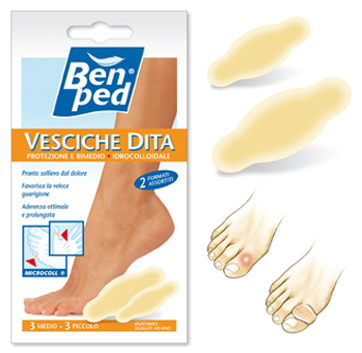 Benped blisters assorted 6 pz
Anatomic for fingers and sides of the foot.
Measures: 48 x 17 mm – 58 x 23 mm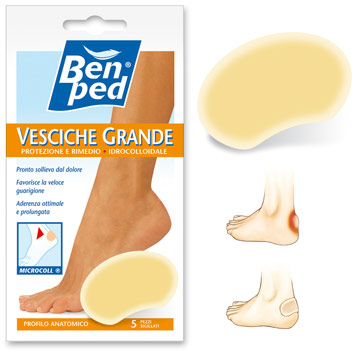 Benped blisters large 5 pz
Anatomic for heels and hands.
Measures: 64 x 40 mm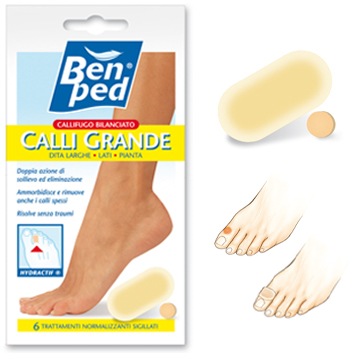 Benped large calluses 6 pcs.
Anatomical.
Double action balancer for big toe, sides and plant.
Measures: 42 x 21 mm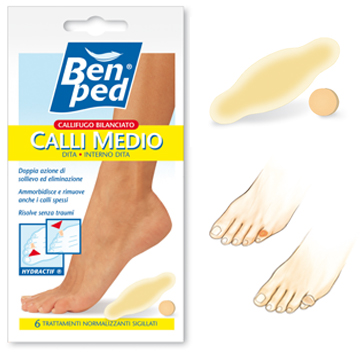 Benped medium calluses 6 pcs.
Anatomical.
Balanced double action toe pad and infradital callus.
Measure: 48 x 17 mm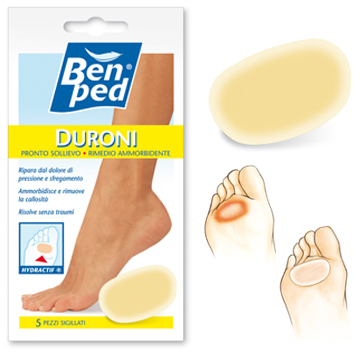 Benped corns 5 pcs.
Anatomical.
Softens the sole of the foot and heel.
Measures: 48 x 30 mm